Mon-cuties for All
Hi, guys!
Thanks so much for checking out our very first experimental title!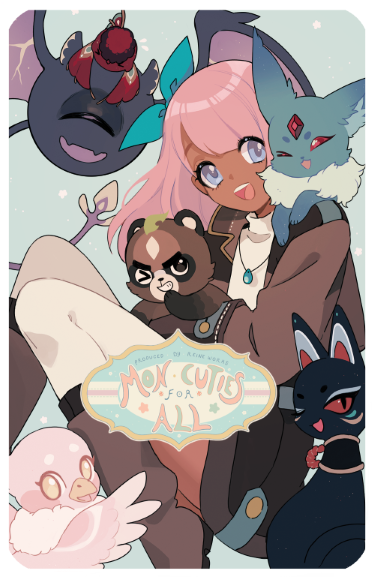 In this post, we'll be documenting the changes we expect will be made in the final version of Mon-cuties for All! Since this is our first experimental game, however, they may be subject to change, pending tester & user feedback.
Expected changes to pre-existing features:
99 to 100 bond levels for each monster, instead of 10
New post-bond scenes for each monster (goal: +7 each)
More character customisation options (incl.: choose eye colors separately, 2 more color options for eyes, 1 more for complexion)
Expected new features:
Enhanced GUI, with fully custom matching design
Display monster bond levels on their pages
Switch to experience-point based system instead of 1 bond game win = 1 level
Treats can be fed directly to monsters to raise their experience points
New/more items in Nyahjit's Wares
Greatly expanded monster show feature: 3 different levels of show, each with their own mini-game
Difficulty options (affects mini-games + experience required to level monsters)
In-game achievements
Multi-language support (Chinese/Russian--if you'd like to see your language supported, please leave a recommendation for us!!!)
Things we'd like to do but are currently up in the air:
Expand farm option
Purchase duplicates of monsters (in different color schemes)
Add 2-3 new monsters
New player customisation options (freckles, moles, glasses, etc.)
Random events
Well, that's about it for now. If you have any suggestions for us, please post them in this forum post!